Before getting started please read:
By contacting us, you warrant that your artifacts were legally obtained according to theLaws governing collecting artifacts. You warrant they were not found on GovernmentProperty and were not taken from Burial Graves and they were found on privateproperty with the landowner's permission. WE DO NOT CONDONE OR OFFER TO BUY ANY ARTIFACT RECOVERED ILLEGALLY. IF THAT IS WHAT YOU ARE LOOKING FOR, PLEASE FIND ANOTHER PLACE TO SELL YOURS.
Just fill out the form and let us know how we can help. Rest assured, we will walk with you through the entire process and our customer service is the best in the industry.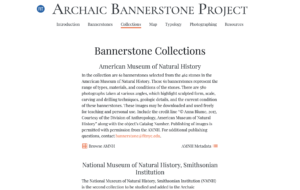 All information is used with permission from Dr. Anna Blume. American Museum of Natural History In the collection are 61 bannerstones selected from the 462
Read More »